Collection M 001, Series 18.B.18:

Hopi Language Booklet:
Hopi Vocabulary for the Growing Student
by Darlene J. Leslie, 2006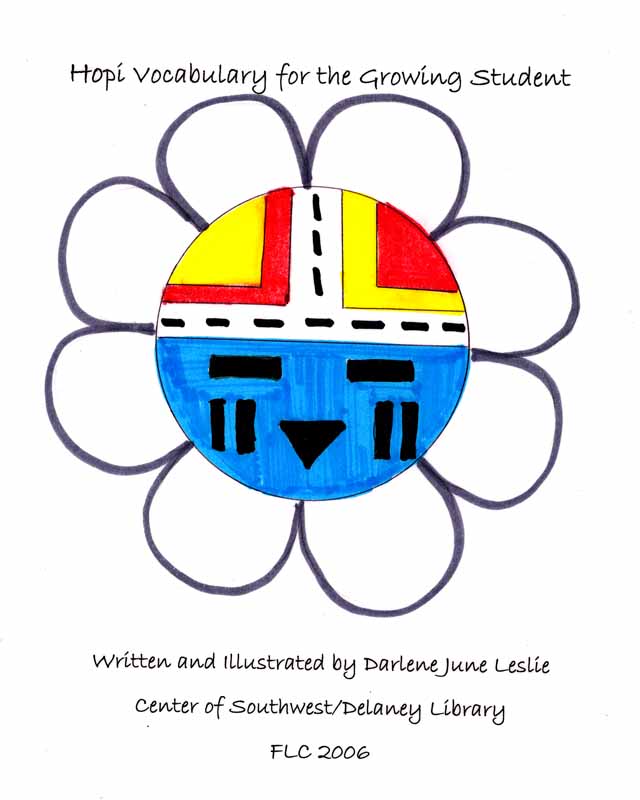 A cover illustration by Fort Lewis College student and Native American Honors Intern Darlene Leslie; one of her projects was to assist with collection development in Hopi language preservation as well as assist with Hopi language materials.

Darlene June Leslie is half San Carlos Apache and half Hopi, from Polacca, Arizona (Sichomovi Village). At the time of producing this guide she was a junior at Fort Lewis College, working towards her bachelor's degree in Interdisciplinary Studies for grades K-6. During her time working as an intern with the Center of Southwest Studies Department at Fort Lewis College (Summer 2006), she produced this vocabulary as a contribution to cultural preservation for the Delaney Southwest Library. Accession 2007:120.

Digitization and web page creation were by Renee Morgan, Professional Native American Archival Intern at the Center of Southwest Studies, 2007/08.
This drawing forms part of the Hopi Language Booklet collection M 001 at the Center of Southwest Studies.
© 2008 Center of Southwest Studies, Fort Lewis College
All rights reserved (click here for Property Rights Statement).
1000 Rim Dr., Durango, CO 81301-3999 ~ Phone 970-247-7126 ~ Fax 970-247-7422
Page revised: February 21, 2008