Lieutenant Colonel William H. Lewis:
biographical notes on Fort Lewis's namesake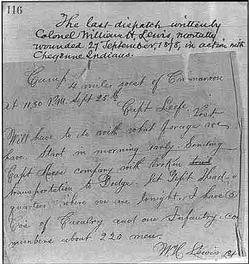 On September 27, 1878, Lieutenant Colonel William Henry Lewis was mortally wounded in conflict with Cheyennes in Kansas. He died the next day. In October of that year, the U.S. Army established a military post at Pagosa Springs to control and protect the Southern Ute Indians and the settlers who were moving into the area, and named it after this man. This military post became Fort Lewis, which eventually became Fort Lewis College.
In what was likely his last dispatch, written on September 27, 1878 when he was mortally wounded, Lewis wrote: "Camp 4 miles east of Cimmaron. At 11:30 P.M. Sept. 25th. Captain Leefe. Will have to do with what forage we have. Start in morning early. Sending Captain Moses company with broken transportation to Dodge. I have five Co's of Cavalry and one Infantry. Command numbers about 220 men." (A dealer sold this document for $2,420 on November 6, 1998.)
The Adjutant General's report on the fight in Scott County, Kansas, September 27, 1878, and on the death of Lieutenant Colonel William H. Lewis, contained a list of wounded and "return of wounds and injuries received in action." Also included were claims for recompense filed by victims of Cheyenne attacks. (Source: Kansas State Historical Society Microfilm MS 1227.01, Indian Campaigns Collection: Cheyenne Indians, 1879-1947, being a microfilm of originals in the Society's Indians History collection.)
Scott State Park, one of the Kansas State Parks, noted that "In 1878, Chief Dull Knife and Little Wolf of the Northern Cheyenne escaped from the reservation near Fort Reno, and on September 27, the men, women and children of the Cheyenne Nation made a stand on the bluffs of Beaver Creek, just south of the park. This encounter with the U.S. Calvary [sic] was the last Indian battle in Kansas. The site became known as "Squaw's Den Battleground" because of the cave in which the women and children hid during and after the battle. Colonel William H. Lewis was wounded during the fighting and died en route to Fort Wallace, making him the last white casualty of the Indian Wars in Kansas." (Source: http://www.kdwp.state.ks.us/news/state_parks/locations/scott first viewed at a different address on 11/22/2002 and last checked and found on the Web at this address on 7/30/2007-- the history is on the brochure pdf file.)
Regarding the events leading up to that event, Roger Myers noted that, "In September of 1878, considerable fear and excitement swept southwest Kansas; Cheyenne Chief Dull Knife and his band were heading for their ancestral home in the Black Hills. Their path would take them through southwest Kansas. Reports of killing and pillaging perpetrated by the Indians were flooding into Dodge City daily. Sensational headlines screamed from the pages of the Dodge City newspapers. As only nineteen soldiers remained at nearby Fort Dodge, the rest were out hunting Dull Knife and his starving band, the citizens of Dodge City wired the governor to send them arms and ammunition. The requested weapons were sent at once. Colonel William H. Lewis, Commandant of Fort Dodge selected J. J. Webb; Bill Tilghman; A. J. Anthony; and Robert Wright, experienced plainsmen all, to scout the area. They brought back a report that 200 warriors were in the area. As more reports of atrocities continued to pour into Dodge, Dull Knife's band quickly swept out of the area and things again returned to normal." (Source: "John Joshua Webb: Lawman to Outlaw," at http://www.larned.net/rogmyers/webb.htm viewed on 7/10/2003, with an email to Todd Ellison on that date from Roger Myers (of Larned, Kansas) who noted that he is the author, that he put this on the website in 2000, and that this was in essence the article he wrote that appeared in Old West magazine in the autumn of 1999. The site was no longer accessible on the Web as of last check on 5/10/2004 but related text was found at http://www.legendsofamerica.com/WE-JJWebb.html on 7/30/2007.)
Francis B. Heitman's Historical Register and Dictionary of the United States Army (Volume 1, 1903, page 631; republished by the University of Illinois Press, Urbana, 1965) contains the following details regarding Colonel Lewis: "Lewis, William Henry. Ala. N.Y. Cadet M Am 1 July 1845 (15); bvt 2 lt 4 inf 1 July 1849; 2 lt 1 inf 31 August 1849; tr to 5 inf 7 Aug 1850; 1 lt 3 Mar 1855; r adjt 1 Nov 1856 to 6 June 1857; capt 7 May 1861; maj 18 inf 14 July 1864; tr to 36 inf 21 Sept 1866; tr to 7 inf 15 Mar 1869; lt col 19 inf 10 Dec 1873; bvt maj 28 Mar 1862 for gal[lant] and mer[etorious] ser[vice] at the battle of Peralta, N Mex; died 28 Sept 1878 of wds recd 27 Sept 1878 in action with Cheyenne Ins at Punished Womans Fort Kans."
Burial site? A researcher noted online that Lewis, a graduate of West Point, was buried at Fort Wallace, Kansas, but his body was subsequently moved to some other location. (Source: Norman L. Eaton, a former Non-Com of the United States Army and the Kansas Army National Guard, electronic communication on February 11, 2002, viewed at http://www.west-point.org/family/bicent/guestview.html on 11/22/2002 and last checked and found on the Web on 7/30/2007.)
A photo? We are unaware of any image of Colonel Lewis. Numerous researchers, archival staff, and staff of U.S. congressional offices have spent many hours searching for a photo or drawing of Lewis, including inquiries at West Point, but thus far nothing has been found. If you have success in this area, please let us know!
---
Page last modified: July 30, 2007