Collection M 032:
Jim Dyer papers
inventory of the collection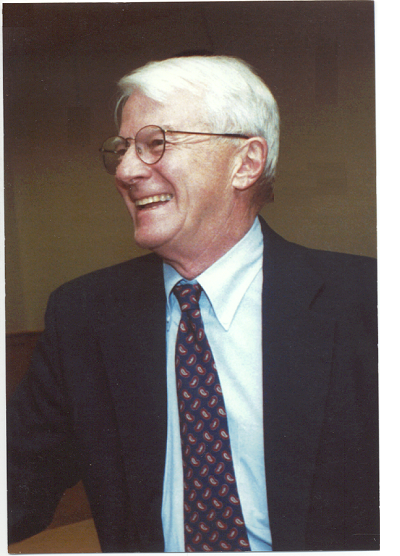 Jim Dyer, 2001
Years this material was created: circa 1800-2005 (bulk 1969-2000)
Quantity: 71 linear shelf feet (in 61 records boxes, 15 document cases, 4 lidded boxes, and one flat file drawer of extra-oversize items)

© 1998 by Fort Lewis College Foundation, Center of Southwest Studies account (updated 2008)
The photo to the right was taken minutes after Jim Dyer had been sworn in as a member of the Colorado Public Utilities Commission in 2001 /
---
Links to contents
---
Introduction/ Scope and contents
M 032
JIM DYER PAPERS
collection dates: circa 1800-2005; bulk years 1969-2000
71 linear shelf feet (in 61 records boxes, 15 document cases, 4 lidded boxes, and one flat file drawer of extra-oversize items)
This collection contains the historically significant records retained from Jim Dyer's personal and political life, including his service in Vietnam during the Vietnam War and 14 years in both chambers of the Colorado state legislature. The predominant group of materials in the legislative materials are subject files on issues Representative Dyer encountered during his years in the Colorado legislature. Of especial importance among these materials are records pertaining to Jim's agenda, what he calls B.E.E.F.: issues of business, education, the elderly, and family farms and ranches.
Jim comes from a long line of strong men and persistent women: doctors, soldiers, railway and telephone workers, mothers and nuns, who survived wars, famine and need, and built new lives wherever they ended up. Some of their stories are included in the first section of the collection.
Record Series 1.3 includes several folders of Jim's daily schedules and notes. Not many business-like calendar day-planners here. Rather, the researcher hungry for glimpses into an active mind, will find Jim's notes are full of telling doodles and quotes. Bits of poetry ("Drink to me only with thine eyes") and moral mottoes ("If it is to be, it is up to me!") are interspersed freely with phone messages and sketches of colleagues.
Record Series 4.4 has samples of Jim's constituent mail. They are "samples" because privacy laws may preclude the free dissemination of private opinions. The public should know, however, that Jim considered the views of his constituents so important that he saved them all, and the bulk of those letters remain with him at home.
Among those most likely to benefit from use of this collection:
A) Anyone interested in tracking some specific Colorado legislation, 1986-1995, and how it developed;
B) Scholars who want to analyze the makings of a politician on the local and state level;
C) Anyone researching the Vietnam conflict; and
D) Genealogists tracing migration of families in the Southwestern U.S., 1867-present.
---
Biographical notes
A. Jim Dyer biographical sketch
Edward James Dyer, Jr., known by everyone as Jim, was a mover and shaker from the start. A native of Kansas, high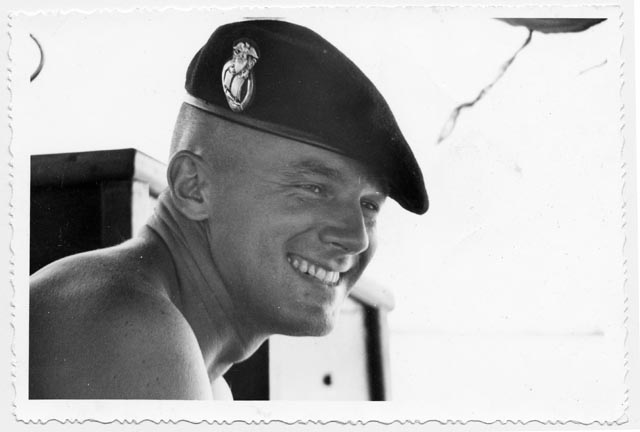 school football star; a decorated Marine, with three tours of Vietnam under his belt (the photo at right, from Series 3.3, Box 1, folder 14, was taken in Vietnam in January of 1964); husband; father; representative for the 59th District in Colorado and then senator for the Colorado Senate District 6; a jogger; a friendly man who listens well--all true and more. Asked to describe himself, he is liable to use the term "poet/ warrior," a metaphor that sums up his philosophy of life.
Born December 9, 1937 in St. Joseph, Missouri to Ed and Eleanor Dyer, Jim Dyer grew up in Kansas and graduated from Hayden High School in Topeka in 1955 where he was an all-league football selection and student council president. Dyer then attended Saint Benedict's College in Atchinson, Kansas from 1955-1959. He received a B.A. with a major in English literature and a minor in fine arts. He attended Officer's Candidate School at Newport, Rhode Island, beginning in 1959.
In 1963, Dyer, a lieutenant in the United States Navy, began his first tour in Vietnam. He served with Advisory Group #79 attached to the 3rd Coastal District/Junk Force, Vung Tao, Vietnam. This unit patrolled the coastline to monitor Viet Cong weapons smuggling. Dyer was awarded the Bronze star for bravery and the Vietnam Gallantry Cross Medal with Palm. Dyer then transferred to the United States Marine Corps. In 1966 he was appointed Commanding Officer of Artillery Battery C, 1st Battalion, 11th Marines in and around Cau Ha, Vietnam. From his journal it is clear that Dyer was still optimistic about the United States military involvement in Vietnam at that time.
In 1971, Dyer as a Major requested a position for an air and naval gunfire support group in Vietnam. He was assigned to the Air/Naval Gunfire Platoon, Sub Unit 1, 1st ANGLICO (Air Naval Gunfire Liaison Company) as a platoon commander, stationed in and around Hoi An, Vietnam, to provide support· for the 2nd ROK Marine Brigade. After his tour in Vietnam, Dyer was an "A" student at the Naval War College, and served as a Commanding officer of the 3rd Battalion, 10th Marines, from 1975-1979 at Camp Lejeune, North Carolina.
In 1979, after retiring from twenty years of military service, Jim and his wife, Shari Ferguson Dyer, moved their family to Durango, Colorado, looking for a safe and wholesome place to raise their boys (Jim, born 1968; Andy, 1970; and Matt, 1974). At that time, he did not foresee politics in his future; he worked as a heavy equipment salesman (1979-1986) and attended Fort Lewis College from 1982-1986, receiving a Bachelor of Arts degree in career counseling. However, running for the school board and helping a friend, Vic Reichmann in his own campaign whetted Jim's appetite. He was hooked. In 1986, he decided to run for a seat in the Colorado State House of Representatives. As a Democrat from District 59, he served the constituents of La Plata, Archuleta, Montezuma, and San Juan Counties. He was re-elected to this seat in 1988 and again in 1990. A dozen years later, he was still in Denver, having won the race for State Senate when he was excluded from the legislature due to term limits.
His position politically? Though a Democrat, some would say that Jim's vote on issues have been determined more based on his constituents' opinions and his own conscience, rather than on any hard party line. Hence, he generally enjoyed popularity on both sides of the political fence.

B. Jim Dyer chronology
1937 Born December 9 in St. Joseph, Missouri, to Edward J. (1908-1970) and Eleanor Brown Dyer (1917- ).
1955 Graduated from Hayden High School, Topeka, Kansas; football and student council president.
1959 Graduated from Benedictine College, Atchison, Kansas, Bachelor of Arts with a major in English literature and a minor in Philosophy.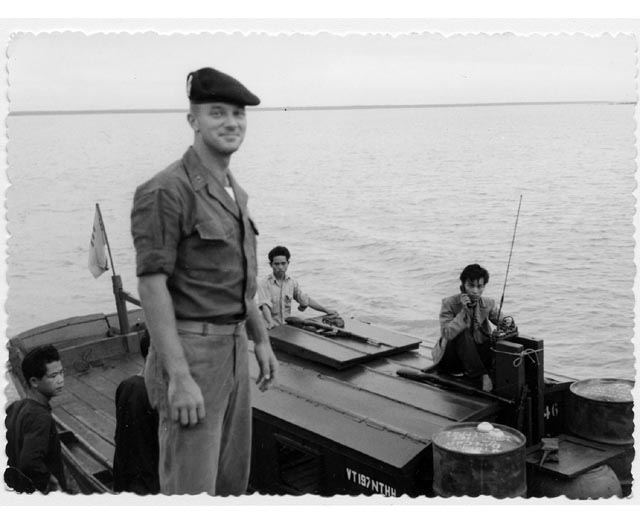 1959-64 U.S. Navy.
1963-64 Appointed Lieutenant, U.S. Navy - 3rd Coastal District/ Junk Force Advisor - Vung Tau, Vietnam (photo on right: Jim Dyer et al. on a boat in Vietnam, 1964; this snapshot is filed in Series 3.3, Box 1, Folder 14)
1964-79 USMC, 3 Bronze stars, Soldiers Medal, Meritorious Service Medal, Vietnamese Gallantry Cross.
1966-67 Appointed Commanding Officer, U.S. Marine Corps - 107mm Mortar Battery, later Battery C 1st Battalion 11th Marines, Vietnam. (Click here to read Pháo Binh – A Marine Artillery Officer's Letters from Vietnam - 1966-67/ by Mark Wakeman Howe.)
1966 Dec.10 Married Sharon Ferguson (Palomar College; former TWA attendant; 1979-86: volunteer to prevent child abuse; (at present, Victim Witness coordinator for the 6th Judicial District Attorney). Three children: Jim (b.1/12/68), Andy (b. 9/13/70), and Matt (b. 4/22/74).
1971-72 Appointed Platoon Commander - USMC 1st ANGLICO (Air Naval Gunfire Liaison Company, supporting 2nd ROK Marine Brigade.
1975 Attended Naval War College.
1975-77 Appointed Commanding Officer - 3rd Battalion 10th Marines, Camp Lejeune, North Carolina.
1977-79 Appointed Officer in Charge of Tactical Warfare Simulation and Evaluation System, Camp Lejeune, North Carolina.
1979-86 Relocated to Durango, Colorado; employed by Power Motive Corp., heavy equipment sales.
1986 Graduated from Fort Lewis College with a Bachelor of Arts degree in career counseling.
1986 Elected to the Colorado State House of Representatives, 59th Dist. (Archuleta, La Plata, Montezuma and San Juan Counties).
1988-1996 Re-elected for consecutive terms to Colorado State House of Representatives.
1998 Elected to the Colorado Senate.
2001 Served on the Colorado Public Utilities Commission (appointed by Governor Owens).
---
Administrative information
Acquisition information: Jim Dyer donated this collection in twenty-two accessions between 1988 and 2001: 1988:06003, 1988:12001, 1989:01003, 1989:07004, 1990:0803, 1990:10002, 1992:06001, 1992:08001, 1993:01001, 1993:04001, 1993:11004, 1994:03003, 1994:05009, 1994:07008, 1995:05003, 1995:06003, 1996:06007, 1996:11004, 1997:08009, 2001:10003, 2003:01003, and 2003:04006. Several archival students completed rough inventories of many of the boxes' contents during a state-level training seminar at Fort Lewis College in 1991. The Center of Southwest Studies used its funds to hire Cindy Jackinsky to process the collection in the summers of 1995 and 1996, supplemented by assistance from Dyer's office in 1996. Cindy is a non-traditional Fort Lewis College student with prior archival experience. Working under the supervision of the College Archivist, Cindy went through the 115 boxes of materials, one by one. Staff had to decide which records series to retain permanently and which to deaccession. Deaccession is the archivist's jargon for sending materials elsewhere--the library, some other historical repository, or into the trash--always with the donor's consent. Project staff deaccessioned 78 large boxes of materials (listed below, as of July 1996) which were not germane to the collection, lacked historical research value or were duplicates.
Records sent elsewhere: (17 records boxes as of November 1995)

*Colorado revised statutes, House/Senate journal books, Session laws and bills (added to Center's law books collections as needed)

*Published volumes including books, brochures and reports (added to the Center's library collection)

Records deaccessioned: (61 records boxes as of July 1996, plus 6 additional records boxes in 2002)

*Declined invitations

*Duplicate paperwork and publications

*Housekeeping records that lost their administrative purpose after a specified period of time (memos scheduling staff meetings; most working notes and background materials; parking space assignments records; vouchers, invoices, receipts, statements, bills for routine expenses and travel documentation--but retained itineraries and trip reports; etc.)

*Issue/ constituent service mail of small volume, single issue, not important to the Representative

*Job applications for positions on the Representative's staff

*Legislative records in which the Representative was interested but not involved

*Routine casework for constituent services

*Routine requests (for flags, printed materials, passes, pictures, biographies, or information about the state, etc.)

*Subject files of a mundane nature, lacking value for historical research

*Originals of newspaper articles that the Center retained only as archival photocopies
This collection also includes a Jim Dyer Collection (CHS collection #1275) that was transferred to the CSWS from the Colorado Historical Society (CHS) in January, 2005, at the request of Jim Dyer and after the approval of the Board of Trustees of the CHS. That collection was primarily focused on Dyer's military career. The organization of that collection (which the CSWS has rehoused) retains the box and folder numbers as described in the inventory of the papers of Jim Dyer, prepared by Paul Davis and Fred C. Rathbun, 1991 June. The sub-collection from the CHS include papers (including 5 log record journal books by Jim Dyer, 9/16/1963- 2/17/1977), manuals, pamphlets, notes, letters, maps (including 21 detailed topographic maps of Vietnam 1954-1967), 3 flags, photographs, etc., circa 1950 through 1981, pertaining to and collected by Jim Dyer, and an audiotaped oral history interview with Jim Dyer, pertaining to parts of his life from 1937 to 1959 and 1979 to 1989. Most pertain to his period of service in the Marines in Vietnam in the 1960s. Jim donated these materials to the Society between 1988 and 1991. All of this material from CHS is CSWS accession 2005:01013.
Processing information: The collection was initially arranged and described by Fort Lewis College Archival Assistants Cindy Jackinsky and Debra Lehl, under the supervision of Todd Ellison, with the assistance of Jim Dyer. This inventory was initially produced by Cindy Jackinsky, ending in September, 1996, and was edited by Todd Ellison on September 23, 1996, February 15-19, 1999, December 2006, and February 2008. Virginia Collins refolded the CHS papers in December, 2006. The biographical sketch was combined by Ellison from text written by CHS Processing Intern Paul Davis and CSWS archival student worker Cindy Jackinsky. Initial html work was by Jesse Davila and Debra Lehl in 1999. In the work on this collection, staff was guided by the Records Management Handbook for United States Senators and Their Archival Repositories (1992), by Karen D. Paul, archivist of the U.S. Senate Historical Office. Staff also gained procedural insights from examining other archival institutions' guides to their processed collections of congressional papers.
Arrangement scheme/ About the organization of this collection: The Center has arranged these materials into four broad record groups, plus the separate collection that was transferred from the Colorado Historical Society. Record Groups (shown in boldface) and series within those RGs are numbered consecutively. The lower level of organization is by folder titles (only for the container listing, next section). Because we expect to add to this collection, the numbering scheme for the boxes starts with 1 for each series. Items within each series (e.g., subject files, committee files) are arranged alphabetically and then chronologically. Personal folders are the exception; they are often undated, so files of daily schedules, invitations, notes for speeches and editorials are separated by years where possible.
---
Series descriptions
Record Group and Series number (and hyperlinks to container list)
Series of the Colorado Historical Society's Jim Dyer Collection
CHS Series 1: Jim Dyer's personal printed materials and correspondence, 1937-1996: in CHS Box 1, folders 1-8. Also, an oral history interview #706 (tape only, no transcription or any other papers; the audiotape is in the Center's oral history recordings file box 44).
CHS Series 2: Jim Dyer's military service records, orders, and evaluation reports, 1959-1979: in CHS Box 1, folders 9-20.
CHS Series 3: Military training schools printed materials, records, term papers, and exams of Jim Dyer, 1950-1975: in CHS Box 1, folders 21-28; Box 2, folders 1-10; and Box 3, folders 1-3.
CHS Series 4: Military fitness reports and award recommendations records of Jim Dyer, 1971-1980: in CHS Box 3, folders 4-9.
CHS Series 5: Jim Dyer's Vietnam military service news releases, newspaper clippings, guides, and periodicals, 1956-1978: in CHS Box 3, folders 10-23.
CHS Series 6: Jim Dyer's logbooks and diaries, 1963-1977: in CHS Boxes 4, folders 1-5; and Box 5, folders 1-3.
CHS Series 7: Southeast Asian maps (and one of Pendleton Base and one of Durango), 1954-1981: in CHS Box 5, folders 4-16.
CHS Series 8: Jim Dyer photos and correspondence from Vietnam, 1963-1964: in CHS Box 5, folders 17 and 18 and in the first 2 folders of 2 folders (CHS photoprints #s 1-86) in CSWS Series 3.3, Box 1, Dyer family photos, and in the smaller oversize lidded flat box, which contains Dyer photos (CHS photo envelope #s 91.377.87 and .88) and a folder of Naval Gun Fire 2nd Battalion 12th Marines group photos at Okinawa, 1961-1962 (3x) (CHS #s 91.377.80 - .91.
---
Series of the original Center of Southwest Studies Jim Dyer Collection:
Record Group 1: PERSONAL/ POLITICAL/ OFFICIAL RECORDS
1.1 Dyer family history, 1800-1980, 30 folders; chronological.

Record Group 2: LEGISLATIVE RECORDS
2.1 Bill files, 1986-1996, 10 boxes; alphabetical.

Record Group 3: PRESS RELATIONS/ MEDIA ACTIVITIES RECORDS
3.1 Editorials, 1986-1996, 8 folders, chronological.

Record Group 4: OFFICE ADMINISTRATION/ CONSTITUENT SERVICES RECORDS
4.1 Legislative procedures records, 1986-1996, 3 folders.

4.2 Legislative service records, 1986-1996, 4 folders.

4.3 Legislative systems records, 1986-1996, 3 folders.

4.4 Jim Dyer constituent mail, 1986-1996, 21 folders; arrangement is alphabetical. Samples only (Mr. Dyer retains the bulk of this type of material personally).

4.5 Jim Dyer 59th District issues records, 22 folders.

4.6 Jim Dyer reply form letters, 3 folders.

4.7 Jim Dyer statistical surveys records, 2 folders. Samples only.

4.8 Jim Dyer telephone messages, 1986-1996, 1 folder. Samples only.

4.9 Jim Dyer letterhead, undated, 1 folder. Blank samples of Dyer's letterhead.

4.10 Jim Dyer travel files, 1 folder.

4.11 Jim Dyer mailing lists, 1 folder.
---
Container list -- Guide to contents
---
---
Addendum 1. List of Jim Dyer's political service
Legislative positions held by Representative Dyer:
56th General Assembly (1987-88)
57th - (1989-90)
58th - (1991-92)
59th - (1993-94)
60th - (1995-96)
61st - (1997-98)
62nd Senate (1999-00)
Committee assignments:
Member, Agriculture, Livestock and Natural Resources Committee (1987-1992, 1995 - 1996)
Member, Business Affairs Committee (1987-1996)
Member, Colorado Commission on Higher Education (1993-1996)
Member, Appropriations Committee (1987)
Member, School Finance Interim Committee (1988, 1993, 1995)
Member, Medically Indigent Interim Committee (1990, 1992, 1994, 1996)
Member, Workers Compensation Interim Committee (1989, 1991)
Legislative organizations memberships:
Member, American Legislative Exchange Council
Member, National Conference of State Legislators
Toll Fellowship
Other organizations memberships:
Member, Marine Corps Association
Member, National Rifle Association
Member, Veterans of Foreign Wars
Member, American Legion
---
Addendum 2. Selective calendar of Dyers' Vietnam and European correspondence
Box 1:
Vietnam correspondence, Jim to Shari, 1966 Feb.-1967 Mar., 1971 June-1972 Mar.
European correspondence, Jim to Shari, 1976 Sept.- Oct.
Box 2:
Vietnam correspondence, Shari to Jim, 1966 Feb.- 1967 Mar., 1971 June-1972 Mar.
European correspondence, Shari to Jim, 1976 Sept.- Oct.
(Vietnam: 1st tour - 1963 May to 1964 Nov.;
2nd tour - 1966 Feb. to 1967 May;
3rd tour - 1971 May to 1972 June.
Europe NATO tour - 1976 Oct.- Nov.)
---
Series 1.4: Box 1: Correspondence, Jim to Shari
Folder Series/date/topics
Series 1.4, box 1, folder 1: 1966 Feb. 16 - June 22
1966 Mar. 2 7,000 miles away, crossing the 180th meridian.
1966 Mar. 12 Leaving Subic Bay, Philippine Islands, and 10 mile hikes in jungle.
1966 Mar. 14 The mystique of the Far East pales in the light of true love.
1966 Mar. 22 Almost to Vietnam, reminiscing.
1966 Apr. 7 Relief at a mission completed with no loss of his troops.
1966 Apr. 24 At sea, near Da Nang, on way to Okinawa (maybe).
1966 Apr. 30 At sea again; VC ambush and mines leave some Marines dead.
1966 May 22 Taking command of 105 mm howitzer battery, "C" 1/11--feelings that something is very wrong in Vietnam, things had changed since 1964.
1966 June 22 Tension: 110-degree heat, no helicopters, 4 KIA, 14 WIA . . ."a sweater? Can you knit me an air conditioner?"
Series 1.4, box 1, folder 2: 1966 July 3 - Nov. 27
1966 July 15 "Being in love with you makes this tour both more meaningful and more miserable."
1966 July 21 "I have just survived another day without you;" 1 Marine wounded; adjusting well to "C" Battery.
1966 Aug. 1 Marry in Hawaii? Missed Operation Hastings, "a bloody affair."
1966 Sept. 21 In Dong Ha, North Vietnam border; "the hardness and cruelty of life here makes your tender love almost uncomprehendable (sic)."
1966 Sept. 23 Feeling incomplete and "super-amorous."
1966 Oct. 22 Mass is a spiritually uplifting distraction; Hawaii R&R (maybe); H&I firing (harassment and interdiction) since it is raining and so no air reconnaissance.
1966 Nov. 2 Proud of his troops and longing for R&R, to get married.
1966 Nov. 10 Marine "birthday".
Series 1.4, box 1, folder 3: 1966 Dec. 17 -29
1966 Dec. 17 (Married in Hawaii 12/10) missing Shari, feeling very alive.
1966 Dec. 22 Wanting Christmas to pass and March to come; rain continues.
1966 Dec. 22 Note to "my dearest and onliest (sic) wife."
1966 Dec. 25 Christmas card from South Vietnam.
1966 Dec. 29 Eight straight days of rain; longing to "revitalize" each other.
Series 4 1.4, box 1, folder 4: 1966 Dec. 31 - 1967 Jan. 31
1966 Dec. 31 The "poignancy" of the year past seen in pictures.
1967 Jan. 2 Words of love; some relief from rain.
1967 Jan. 7 "Yours pantingly, Mr. Dyer."
1967 Jan. 10 One-month anniversary.
1967 Jan. 12 Moving "C" Battery for the 12th time in 8 months--a pain.
1967 Jan. 14 Joy for a possible pregnancy.
1967 Jan. 18 Writing "brings me as close as I can be"; two VC dead (see picture in file of photos).
1967 Jan. 22 14 VC KIA and counting; would prefer a lazy Sunday morning of coffee, newspaper and sex.
Series 1.4, box 1, folder 5: 1967 Feb. 1 - Mar. 3
1967 Feb. 1 Receiving a Bronze Star for bravery.
1967 Feb. 7 Praise for Shari's heartfelt and warm letters.
1967 Feb. 9 Two-month anniversary (tomorrow).
1967 Feb. 16 One year since leaving home.
1967 Feb. 18 Sympathy for Shari's last TWA flight as an attendant.
1967 Mar. 2 Packed and ready to go; unable to reach Shari on the radio.
Series 1.4, box 1, folder 6: 1969 Feb. 14, Valentine's Day cards from Jim to Shari
Series 1.4, box 1, folder 7: 1971 June 4 -30
1971 June 8 Da Nang and Saigon and the Hoi An Korean Marine quarters.
1971 June 11 Mentions he'd been there in same room in 1963.
1971 June 17 Drug problems among the troops.
Series 1.4, box 1, folder 8: 1971 July 1 - 31
1971 July 6 What his unit does; he's one of the last 80 Marines in the northern end of [South] Vietnam.
1971 July 8 His daily routine.
1971 July 19 Self portrait.
1971 July 20 Phoning the States.
Series 1.4, box 1, folder 9: 1971 Aug. 1 - 31
1971 Aug. 6 Korean soldiers' personalities.
1971 Aug. 10 Visit to an orphanage.
Series 1.4, box 1, folder 10: 1971 Sept.1 - 30
1971 Sept. 1 Reasons for wanting to renew his wedding vows.
1971 Sept. 8 Soldier on heroin threw grenade at NCO.
1971 Sept. Six days of R&R with Shari in Hawaii.
Series 1.4, box 1, folder 11: 1971 Oct. 1 - 31
1971 Oct. 16 American Indian soldier; racial difficulties.
1971 Oct. 18 A troublesome Marine; racial difficulties; attached is a letter from Jim's mother.
1971 Oct. 31 American Indian soldier; racial difficulties; tears.
Series 1.4, box 1, folder 12: 1971 Nov. 1 - 31
1971 Nov. 11 Marine Corps birthday celebration.
1971 Nov. 27 Includes Shari's letter of Nov. 18 about what the officers' wives worried their husbands were up to in Vietnam.
Series 1.4, box 1, folder 13: 1971 Dec. 1-31
1971 Dec. 1 Reverse of this letter is a photocopy of a news clipping about Marine duties relating to Dyer's outfit then.
1971 Dec. 5 How the troops chose to celebrate "Christmas".
1971 Dec. 8 His [low] monthly living costs.
1971 Dec. 12 A MIA widow's problems of remarriage.
1971 Dec. 28 Flight on cargo plane to Saigon.
1971 Dec. 30 A "loser" private.
Series 1.4, box 1, folder 14: 1972 Jan. 1 - 31
1972 Jan. 13 Fitness preparations for homecoming.
1972 Jan. 14 $375 air fare home.
1972 Jan. 15 Da Nang massage parlor/girls for the troops.
1972 Jan. 18 Censored word -?-.
1972 Jan. 19 Giving away government property to clear out of Vietnam; books read.
1972 Jan. 23 A private for a day.
1972 Jan. 24 A private for a day.
1972 Jan. 26 Korean medal.
1972 Jan. 27 A lover's admiration; spiritual stirrings.
1972 Jan. 28 A colleague's dear John letter.
Series 1.4, box 1, folder 15: 1972 Feb. 1 - 28
1972 Feb. 2 Dyer's life goals.
1972 Feb. 5 Homecoming routine.
1972 Feb. 10 Peaceful/lonely evening; sleeplessness.
1972 Feb. 13 Heroic rescue.
1972 Feb. 14 Heroic rescue.
1972 Feb. 15 Heroic rescue.
Series 1.4, box 1, folder 16: 1972 Mar. 1- 31
1972 Mar. 12 Back in Vietnam after two weeks with family.
1972 Mar. 26 Spiritual stirrings.
1972 Mar. 30 Jet warplane experiences.
1972 Mar. 31 Jet warplane experiences.
Series 1.4, box 1, folder 17: 1972 Apr. 1 - 30
1972 Apr. 16 Emotional pressures on a Marine's wife.
1972 Apr. 30 Unnatural spousal separation caused by war service.
Series 1.4, box 1, folder 18: 1972 May 1 - 31
1972 May 5 Haughtiness in the Air Force.
1972 May 28 Personal benefits of these letters.
Series 1.4, box 1, folder 19: 1976 Sept. 6 - Oct. 9
1976 Sept. 28 Letter to his boys about seeing King Olav of Norway in Oslo.
1976 Oct. 9 On the way to NATO exercises in Denmark and Germany.
Series 1.4: Box 2: Correspondence, Shari to Jim
Folder Series/date/topics
Series 1.4, box 2, folder 1: 1966 Feb. 19 - Apr. 27
1966 Mar. 15 Coming to grips with the fact that Jim is a professional soldier.
1966 Apr. 3 Her worst flight on TWA; people so rude she was almost in tears.
1966 Apr. 27 Discussions on marriage and ideas for wedding gifts.
Series 1.4, box 2, folder 2: 1966 May 15 - July 31
1966 May 15 Going to mass; trying to sign up for classes in Catholicism.
1966 May 27 First apartment, new furniture.
1966 June 10 Taking golf lessons.
1966 June 11 Love poems.
1966 July 9 Airline strike.
undated enclosure: unusual behaviors of returning soldiers (tongue-in-cheek).
Series 1.4, box 2, folder 3: 1966 Aug. 5 - Oct. 31
1966 Aug. 28 Time with her family.
1966 Sept 28 Relief to hear from Jim after long lapse of correspondence.
1966 Oct. 10 Rainy, gloomy, lonely.
1966 Oct. 19 Concern for his movement closer to the DMZ.
Series 1.4, box 2, folder 4: 1966 Nov. 4 - Dec. 30
1966 Nov. 4 Bought wedding dress and veil.
1966 Nov. 20 The actor Brian Keith on her flight.
1966 Dec. 15 First letter as husband and wife (married 12/10 in Hawaii).
Series 1.4, box 2, folder 5: 1967 Jan. 1 - 30
1967 Jan. 9 One-month anniversary.
1967 Jan. 14 Affirmation of love.
Series 1.4, box 2, folder 6: 1967 Feb. 3 - Mar. 2
1967 Feb. 9 Last TWA flight as attendant.
1967 Mar. 2 "E. J. Dyer, my hero."
Series 1.4, box 2, folder 7: 1971 June 5 - 29
1971 June 13 Feeling more mature and self-sufficient; book list; pictures from little Jim and Andy.
Series 1.4, box 2, folder 8: 1971 July 1 - 31
1971 July 1 Boys are growing; news of friends, family, more pictures for Daddy.
1971 July 26 Vice President of OWC.
1971 July 29 Phone call from Jim.
Series 1.4, box 2, folder 9: 1971 Aug. 1- 31
1971 Aug. 5 Andy very sick; Shari recovering from nasty cut on her knuckle.
1971 Aug. 20 Little Jim has a heart murmur.
1971 Aug. 25 Trip to Tijuana.
Series 1.4, box 2, folder 10: 1971 Sept. 1 - 20
1971 Sept. 2 Missing Jim badly.
1971 Sept.17 Staying busy with OWC parties, golf, gardening.
Series 1.4, box 2, folder 11: 1971 Oct. 1 - 30
1971 Oct. 1 Lonely after 6 and one-half days R&R with Jim.
1971 Oct. 11 Painting at home; kids' pictures at the mall.
Series 1.4, box 2, folder 12: 1971 Nov. 2 - 30
1971 Nov. 14 Christmas package off to Jim; sadness at being without him.
1971 Nov. 16 Details of their home.
1971 Nov. 30 More love poems.
Series 1.4, box 2, folder 13: 1971 Dec. 1 - 30
1971 Dec. 1 Emotional over her Aunt Ethel's cancer.
1971 Dec. 15 Discussion on adopting a little Asian girl.
1971 Dec. 17 Preparing to sell the house; birthday card to Jim from boys.
Series 1.4, box 2, folder 14: 1972 Jan. 3 - 31
1972 Jan. 3 Facing the ordeal of alcoholism in her family.
1972 Jan. 24 "Only four more Gunsmokes until we are together."
Series 1.4, box 2, folder 15: 1972 Feb. 1 - 15
1972 Feb. 1 End is in sight; anticipation; pictures from boys.
Series 1.4, box 2, folder 16: 1972 Mar. 15 - 30
1972 Mar. 15 Worry for Jim's safety.
1972 Mar. 23 Uplifting phone visit.
Series 1.4, box 2, folder 17: 1972 Apr. 1 - 29
1972 Apr. 2 Becoming "more and more a Catholic."
1972 Apr. 20 Assignment to Taiwan definite.
1972 Apr. 29 Moving out to an apartment, bittersweet.
Series 1.4, box 2, folder 18: 1972 May 7 - 24
1972 May 13 Passport pictures.
1972 May 14 Feeling overwhelmed; missing Jim but being strong.
1972 May 24 "I wish Vietnam would go away."
Series 1.4, box 2, folder 19: 1976 Sept. 6 - Oct. 8
1976 Sept. 6 Family news, neighborhood gossip.
1976 Oct. 5 Missing Jim, very tired of the worry of having him gone.

---
Doing your own research: This description of a portion of the collections at the Fort Lewis College Center of Southwest Studies is provided to inform interested parties about the nature and depth of the repository's collections. It cannot serve as a substitute for a visit to the repository for those with substantial research interests in the collections.
This collection is located at the Center of Southwest Studies on the campus of Fort Lewis College. Researchers wanting more information about using this material at the Delaney Southwest Research Library at the Center may email the archivist at archives@fortlewis.edu or click here to use our E-mail Reference Request Form (or phone the archivist at 970/247-7126). The Center does not have a budget for outgoing long-distance phone calls to answer reference requests, so please email if you wish to receive a response from the Center. To request reproductions/copies, click here for instructions.
---
Page last modified: February 07, 2008