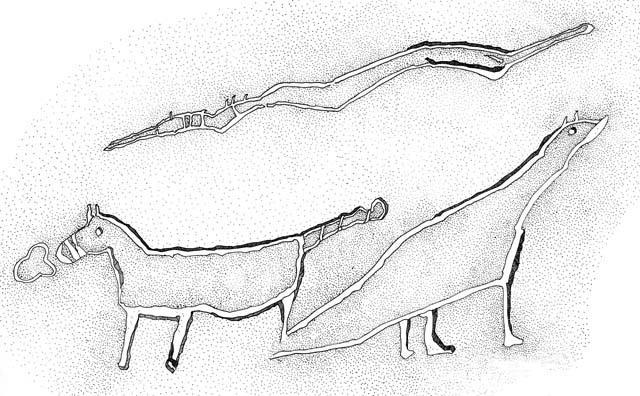 This
is a drawing
of a trio of animal forms pecked onto the rock face near the top of the cliff high above Snake kiva in Frijoles Canyon.

A serpent crawls along above a horse with wrappings around both its muzzle and tail and an imaginary animal with massive body and tail.

Judging from their subject matter and style, these latter two figures were probably carved after the arrival of the Spaniards in 1540.
This drawing forms part of the Bandelier National Monument rock art drawings collection M 198 at the Center of Southwest Studies.
© 2004 Center of Southwest Studies, Fort Lewis College
All rights reserved (click here for Property Rights Statement).
1000 Rim Dr., Durango, CO 81301-3999 ~ Phone 970-247-7126 ~ Fax 970-247-7422
Page revised: December 09, 2004