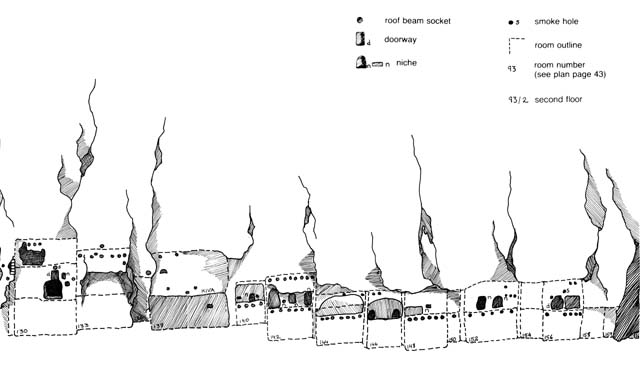 This is a drawing of
t
he cliff above Room Cluster IV, which displays no rock art. However, the people who lived here built the only kiva found in Long House.

Room 137 stood twice as tall as the other rooms and had been partially carved out of the rock.

Its walls were once plastered and painted with colored murals, but today only scant traces of this plaster can be seen.
This drawing forms part of the Bandelier National Monument rock art drawings collection M 198 at the Center of Southwest Studies.
© 2004 Center of Southwest Studies, Fort Lewis College
All rights reserved (click here for Property Rights Statement).
1000 Rim Dr., Durango, CO 81301-3999 ~ Phone 970-247-7126 ~ Fax 970-247-7422
Page revised: December 08, 2004