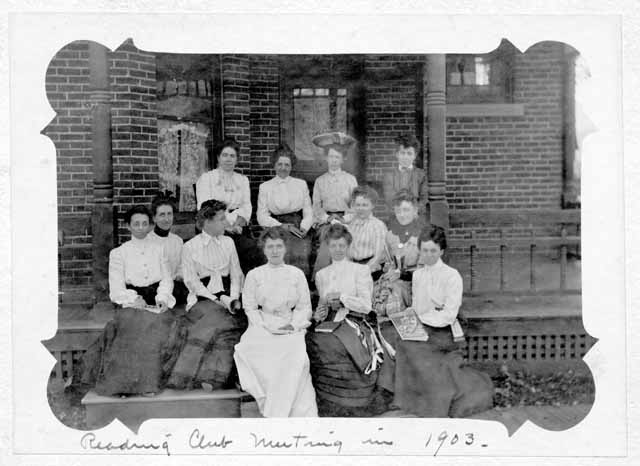 Club members (viewed from left to right), and their associations, if noted on the back of this and a duplicate photoprint in this folder:
Back/top row: Mrs. Frederick (Nellie) Egan (Smelter); Mrs. Black Hayden; Mrs. William S. (Nell) Pickerill [large hat]; Mrs. I. Kruschke.
Middle row (3 on left, 2 on our right): Mrs. Sam E. Herr (Porter Fuel Company); Mrs. Barber; Mrs. Clayton C. (Z. R.) Perkins [head turned]; Mrs. McCanna; Mrs. John Haggart.
Front row (center and right): Mrs. Thomas Rockwood (Mother Rockwood -- Tom's 2nd wife); Mrs. L. C. Jakway; Mrs. Percy Rider.
© 2003 Center of Southwest Studies, Fort Lewis College. 1000 Rim Drive, Durango, CO 81301-3999 ~ Phone 970-247-7126 ~ Fax 970-247-7422
All rights reserved (Durango Reading Club has full use of this image) (click here for Property Rights Statement, including information for requesting copies).
Page revised: May 03, 2007