Map of wagon routes in Utah Territory

To thumbnail

Click here for information on requesting a copy of this map.

Map of wagon routes in Utah Territory, explored and opened by Capt. J. H. Simpson, assisted by Lieuts. J. L. K. Smith and H. S. Putnam, and Mr. Henry Engelmann 1m 1858-59 by authority of Hon. John B. Floyd, Secretary of War, and under instructions from Bvt. Brig. Gen. A. S. Johnston, United States Army Corps of Topographical Engineers. Drawn by J. P. Mechlin. Scale: 1: 1,000,000. Includes a table of geographical positions established by Capt. Simpson. The Southeast corner of Utah is blank on the map and is simply described as unexplored. This map was a fold-out in the book, Report of explorations across the great basin of the territory of Utah for a direct wagon-route from Camp Floyd to Genoa, in Carson Valley, in 1859, by Captain J. H. Simpson, Washington, Govt. Printing Office, 1876.
---
Larger version (3,243 pixels wide):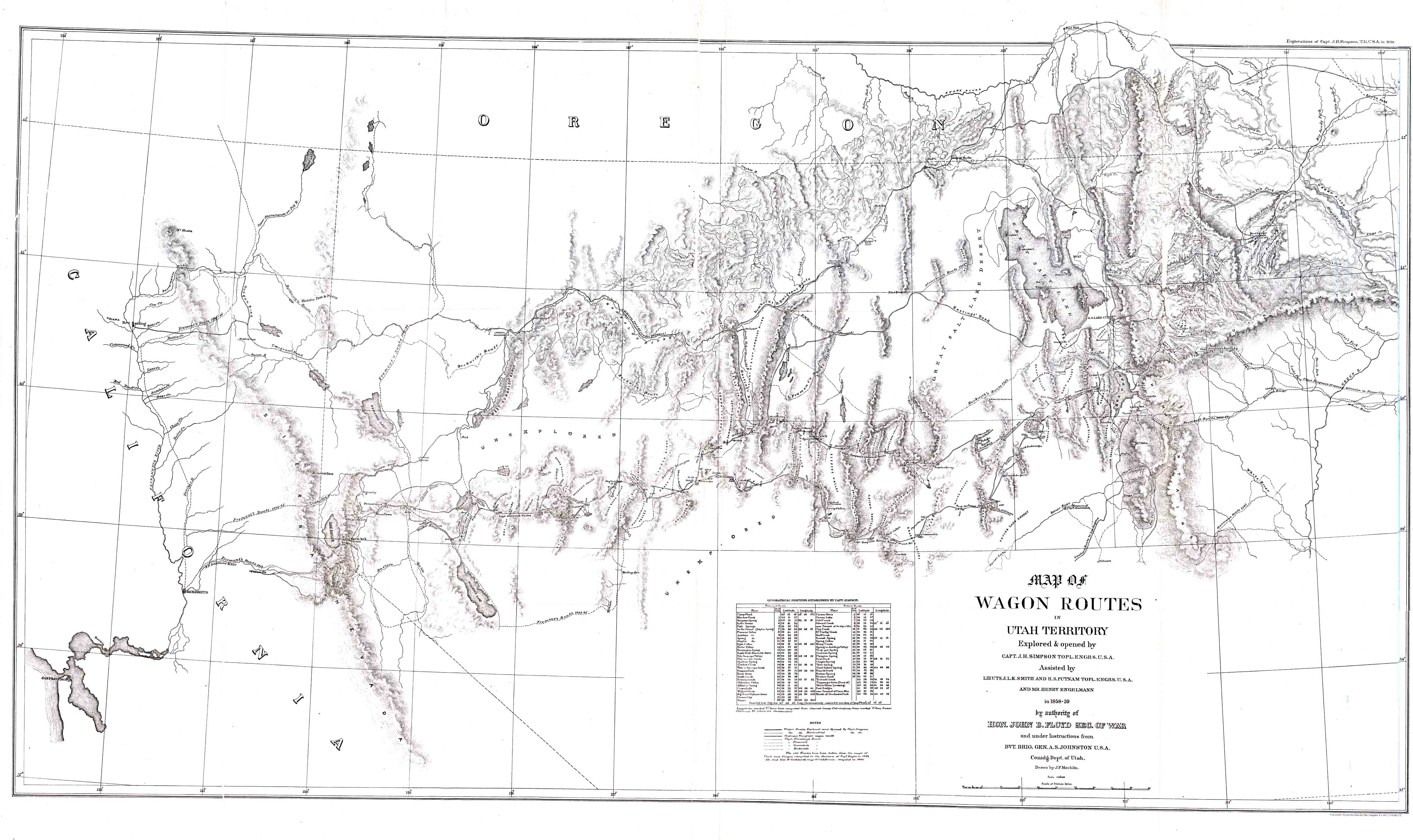 This map (Accession 2007:114) forms part of the Southwest maps collection C 001 at the Center of Southwest Studies.
Digital image © 2007 Center of Southwest Studies, Fort Lewis College. All rights reserved.
Click here for Property Rights Statement and for information on requesting a copy.
1000 Rim Dr., Durango, CO 81301-3999 ~ Phone 970-247-7126 ~ Fax 970-247-7422
Page revised: November 14, 2007